Sagging Floor Joists
If a home doesn't have a basement, then it likely has one of these spaces underneath it. When it is not sealed off from the outside environment, or if a waterproofing system is not installed, moisture and humidity can cause a lot of problems. It can flood whenever it rains, or when there is melting snow on the lawn. Wood inside on supports and floor joists can start to rot and become ruined. All of this rotting wood is very attractive to unwanted pests, as well. The moisture can also lead to the growth of dangerous mold, which could make someone very sick, and it has been known to cause many different health problems, including: asthma attacks, skin rashes, fatigue, headaches, eye irritation, and cold/flu-like symptoms.
Damp Crawl Space | Flooded Crawl Space | Musty Odors | Sagging Floor Joists | Sinking Footing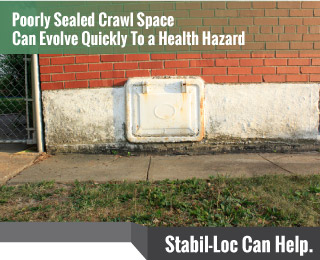 Sagging, Unlevel Floor Joists
You may notice that the first floor of your home has un-even floors that appear to be sagging. If so, there is every reason to believe your home is experiencing an excessive moisture problem in the area below your home. If the crawl space beneath the your building hasn't been sealed off or waterproofed, then water seepage will easily get inside your foundation and be the cause a number of problems. Water collecting below your house may result in wooden structural elements suffering from rot, decay, and warping. This type of damage will make the floor boards and joists, joists and beams supporting your home to become weak. Ultimately, they will have trouble supporting the vast weight of the structure of your home above, which can cause sagging, uneven floors.
The common signs of excess moisture under your home:
You notice musty or moldy odors, particularly after a rain
Rotting wood or structures
Stagnant pools of water lying against the footing
The presence of termites, roaches, and other pests
How To Fix Floors That Are Sinking/Sagging
Unfortunately there are two problems to fix. First, we will install jacks and supports to stabilize the floor boards, level your floors, and prevent additional sinking. Secondly, we need to account for damaging water and how it is gaining entry into your home. We will likely install a drain along the outside of your foundation which will divert moisture away from your home's foundation and into a sump pump or drain pipe leading away from your home.
The last thing you should do as a homeowner is ignore the warning signs of ongoing foundation and basement problems. Protect the value of your home by addressing and repairing all foundation and basement issues. Call us today for a free assessment and estimate.