35,000+ Stabil-Loc Piers Installed ~ ZERO Failures
Stabil-Loc Patented Foundation Piers
The patented Stabil-Loc Foundation Piering System is the #1 method for providing homeowners with a permanent foundation repair solution.
Our double-walled, heat-extruded steel tube is positioned directly under the center of the wall to be lifted or stabilized, then driven hydraulically all the way to bedrock or stable strata. This provides the deepest, strongest foundation support available. The patented rotating head assembly maintains concentric loading during the lifting process. Traditionally, the house must be over-lifted to insert shims. Our adjustable "shimblock" eliminates the need for over-lifting the structure which can cause damage to your home.
All work is performed by your local, factory-trained and authorized Stabil-Loc contractor. All our work is licensed, insured and guaranteed for your protection and peace of mind.

  Free foundation and basement evaluation


  Free prompt, written repair estimates


  We will schedule a time at YOUR convenience


  Friendly, no-pressure approach


  Certified structural evaluators and repair professionals


  Licensed & insured for your confidence and protection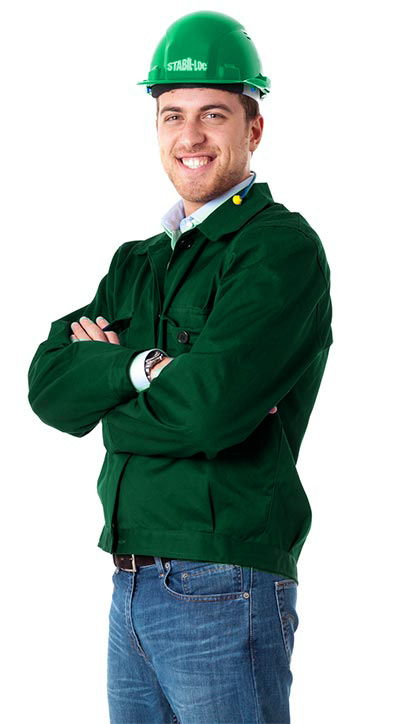 Speak with a Stabil-Loc Pier Systems Expert Today!
Call toll free (855) 281-1037
Professional
Our team of dedicated foundation professionals are factory trained and certified.
American Made
Our foundation piers are manufactured in the U.S.A. using American raw materials.
Licensed & Insured
Our certified foundation repair professionals are licensed and insured for your confidence and protection.
Prompt Service
We will work to schedule assessments and repair times that work with YOUR schedule.
A Message from Stabil-Loc Founder Steven Patton
For 100 years, the foundation repair industry has struggled with the concept of "concentric loading" versus "eccentric loading". It has been difficult to install a pier under a house, because the house was always in the way. Attaching a bracket to the outer edge of the foundation footing and driving a pier off the bracket caused severe off-set loads, which dramatically decreased the long-term durability and reliability of the system. If you want your piering system to be a permanent solution, you must do three things…
35,000+ Piers Installed ~ ZERO Failures
Certified Structural Evaluators
Every foundation repair service comes with a free Certified Structural Evaluation®, a training program that turns contractors into authorized and licensed technicians.
Patented Foundation Piers
Our foundation piers are engineered to perfection. As we stand by our product and it's efficiency, every pier installation comes with a lifetime warranty- no questions asked.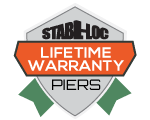 All work is performed by your local, factory-trained and authorized contractor. Everything we do is licensed, insured and guaranteed for your protection and peace of mind.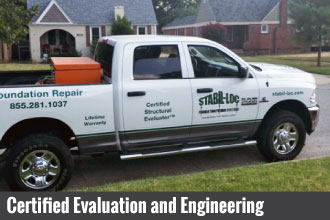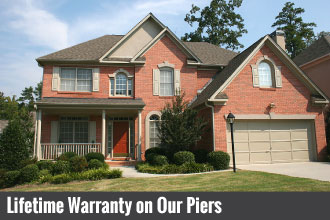 Foundation Repair Services
Our dedicated team of factory-trained and authorized contractors are proud to offer foundation repair services for homeowners across the United States and Canada. Using advanced evaluation tools, our Certified Structural Evaluators, will determine the causes of your foundation problem and provide a permanent solution.
Our Foundation Repair Services include:
Foundation Repair Leveling and Permanent Stabilization
Basement Waterproofing
Interior and Exterior Drain Systems
Sump Pumps
Carbon Fiber or Steel I-Beam Wall Bracing
Epoxy Injections
Our Patented Foundation Piers
Stabil-Loc Foundation Piering Systems was founded in 2008 on a simple, yet critical premise. "If you don't have good structural engineering behind your piering system, then don't be lifting other people's houses with it." Even the most untrained eye will look at the different methods of foundation repair and types of piering systems in the American marketplace and choose the one that "just makes sense."
The Stabil-Loc Foundation Piering System does exactly that. When you look at the simplicity of its patented method (U.S. Patent # 8,206,063 B 2), compressive strength of materials and ability to withstand off-set loads and the way it supports the foundation of a structure, you will say, "that just makes sense." And that's a permanent solution to your foundation problem.
Stabil-Loc has field tested this patented method of lifting, leveling and stabilizing a foundation with over 35,000 pier installations and has had an unprecedented performance record. NOT A SINGLE FAILURE.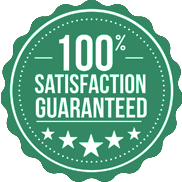 Call Us Today for a Complimentary Structural Evaluation
Toll Free 1-855-281-1037