Certified Structural Evaluator®
There are numerous benefits to using a Stabil-Loc Certified Structural Evaluator™, including the fact that you will receive a precise and FREE evaluation of your home. Our authorized contractors are trained to take a multi-step approach to diagnosing and treating a structural problem. This process eliminates an inaccurate diagnosis and allows our CSEs to pinpoint the cause of the problem and take care of it quickly and properly.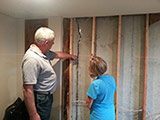 Step 1:
A thorough evaluation of the interior symptoms and damage to your home.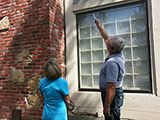 Step 2:
 The exterior is meticulously evaluated by making at least three laps around your home and taking all necessary measurements.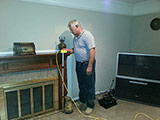 Step 3:
Final elevation readings are taken inside the home using Zip Levels and Laser Levels.
This research will be used to create a structural repair plan for your property. Anything less, and you are putting you property at risk of an inaccurate diagnosis. It is the position of Stabil-Loc and its' "Authorized Dealer" network, that a foundation repair job is not complete until the homeowner has documentation detailing the work that was completed. After each job is finished, the homeowner will receive a Project Report.
Project Report Package
After the work is finished in your home, you will receive a report showing the following useful information:
A CAD generated schematic of the foundation of the house, complete with designation on the drawing of the location of the piers installed.
Warranty
Manufacturer's Warranty Certificate
Stabil-Loc Sales Brochure, with all pertinent information describing the type of piering system used
Call today to set up a FREE home evaluation with a Certified Structural Evaluator™.