Waterproofing a Flooded Basement
We use a variety or waterproofing products and systems for homeowners needing effective water mitigation. While foundation repair will fix structural issues, there are many other problems associated with water surrounding the property, foundation, or basement walls.
Leaky Cracks | Flooded Basement | Porous Concrete | Water Seepage | Window Leaks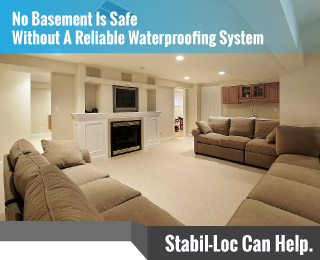 Basement Waterproofing: Flooded Basement
Moisture from seasonally-heavy rain and precipitation can find a crack or other weak spot into your basement or crawl space in a number of ways, including:
through leaking basement window seals
upward through a clogged drain
by way of cracked or damaged concrete blacks
over the top of the foundation (which indicates a yard drainage problem)
through the cove joint (where the wall and floor meet)
due to a non-foundation-related plumbing problem.
Regardless of the source of the seepage, drainage collecting beneath a home will always cause damage to the foundation and basement structure. Damage from drainage includes watermarks on interior walls and floors, water damage to furniture, boxes and personal items stored in the basement, and even worse can lead to the rapid growth of mold and mildew. Should you experience flooding in your basement or other area beneath your home, we strongly encourage you to reach out and contact us immediately. Never step into flood waters because the electrical system in you're your basement could cause electrocution.
How To Fix A Basement Flood
The most reliable and recommended solution to eliminate the possibility of standing water below your home is the installation of an Stabil-Loc drainage system. The drain will guide the water into a sump pump. The water collects in the basin of the pump and once it reaches a predetermined level, the water is forced outside, away from your home's foundation. In the event that your neighborhood loses power during a storm, battery back-up units are also available.
Please don't let your foundation problems linger. Call us today and our friendly, professional estimators will provide you with a prompt assessment of your foundation's issues and a written repair estimate.